(This post contains affiliate links)
My 3 year old princess, Riley, is so eager to learn. She catches on to things so quickly and always wants to be doing something new. Preschool would be perfect for her but we still have over two years before she will start kindergarten. I don't think that going to a traditional preschool is necessary, at least not right now. Next year I would love to try it with her. I want her to learn from someone other than me and socialize with other children. For now, though, doing preschool activities at home suits us just fine.
I do not have a redesigned curriculum. Although I know many moms that do, and some of them are freakin' fantastic. I personally don't see the need in our family at this time.
I have a daily learning board that I have written about before. You can find it and free printables here.  As you can see every day we go over what day of the week it is, the letters & numbers of the week, and the theme of the week. There is a graphic for the season, but we don't go over that every day. It's just there as a reminder. I do want to add graphics for the weather but have not gotten there yet.
Each week we have a theme. I have actually written out a theme for every week until the end of the year. You can view my list of themes here. This week, and highlighted in this post, we are doing outer space. During the week before I will compile a list of activities and crafts that I want us/her to do. I like not having a specific day for each activity because I like the flexibility. Every night I will decide what I would like to do the next day and get together any supplies, printables, etc. that we may need for the next day. I find that prepping everything the night before reduces the stress the next day.
Many things come into play when doing these activities that could change whether or not we do said activity on a specific day. What if its an outdoor activity I planned for Monday and it decides to storm? Or what if I choose a super noisy activity and I have a splitting headache? Or what if Riley isn't feeling well just wants to have an easy relaxing day? We are a very flexible house and I like it that way!
I try to find activities each week that fit within these early education developmental standards:
– Social-Emotional Development – Math – Science – Social Studies – Language and Literacy – Physical & Motor Development –
We don't get to every single one every week, but I try to at least do it most of the time.
** I do not have any professional training in early childhood education. I have done independent research. THIS is a good resource.
Must Have Basic Supplies: 
THIS WEEK: Outer Space
Printables: 
We LOVE printables in our house. This week these are the ones that we used:
My Book Of Space Words from A to Z Teacher Stuff
Color by Number: Outer Space from Education.com

DIY Sticky Planets Puzzle:
I printed out two of [these]. I taped one of the printables to the non sticky side of a piece of clear contact paper. I then taped contact paper, sticky side out, to a door. From the second sheet I cut each of the planets out and sun out. I sat down with Riley and I told her what each planet was named and she found where it fit on the 'puzzle'. After all of the planets were in their respected places I gave her colored pencils and she colored the planets. I somewhat guided her to what the colors really are, but let her do her own thing also.
Fizzy Planets: 
She had SO much fun with this that not only did she experiment for 30 minutes while I made lunch but also wanted to do it again during quiet time. It takes very little set up time and has so many aspects of development. This activity was an A+ in my book and we will be doing it again! See how we did it here.
Night Sky Play Dough & Play Dough Mats:

We absolutely LOVE play dough in this house. I make a new batch at least once a month because we play with it so much. And don't let it surprise you if I make a new play dough mat or two or three for each theme. For night sky play dough I used my go to home made play dough recipe. This time, though, I used a lot of purple & blue to make it dark and night like and then added a fine glitter. I didn't have as much time as I wanted for the play dough mats so I literally googled some pictures, printed them off, and laminated them. She used star cookie cutters and added stars to the planet and moon picture.
Launching Rockets: 
When I asked my daughter if she wanted to make a rocket her response was "can it have real fire?". Well my precious little one, No. No It can't. BUT it can fly!! I drew a rocket, colored and cut out four of them. Taped them together, leaving an opening at the bottom. Stuck a straw inside. You blow through the straw and the rocket goes flying. I was literally surprised how high they really fly! It was fun!! You could make them with thicker papers (like card stock) and laminate them. This would make this DIY toy last. (Ours lasted about 30 minutes before it was ripped). Great, easy activity!
Read More Like This: 
I am lucky enough to be teaming up with some other outstanding bloggers. We have all written about various Back To School topics. Check out their posts here and scroll down to enter our Back To School Giveaway!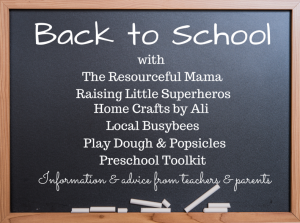 The Resourceful Mama//Raising Little Superheros//Home Crafts by Ali//Local Busy Bees//Play Dough and Popsicles//Preschool Toolkit
You Might Like These Posts Too!